1
Yes it has come to this…I am doing a national hit on CTV News Channel (Canada) tomorrow (Tues) at 720 AM EDT on — wait for it — Pokemon.
(Will post here when link is available.)
And specifically Pokemon Go which is an app where Pokemon meets your smartphone mixed with augmented reality that uses GPS to help you find virtual cute monster in the real world.
This augmented reality is just a peek at how our real world will be combined with digital created augmented reality.
I am going to warn the TV audience how nostalgic grownups staring at their cellphones are likely to get killed chasing Pikachu across their own street. Hey kids, this SUPERYOUtopia business is not all nanobots and sunshine you know.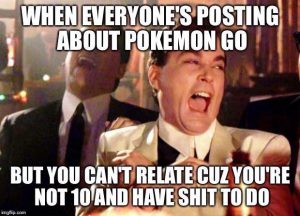 Heck, a Wyoming woman already found a real world dead body – a drowning victim it seems – as she sought virtual monster cuteness.
Actually we talk a bit about this kind of thing in Chapter 3 of Super You –  http://superyou.link/book in terms of immersing yourself in vrtual world that is one foot in reality and one foot in an augemented world of your own making when you look like a version of you that you create for others.
Here is a short primer to Pokemon Go:
What is Pokemon Go?
Pokémon Go is a mobile game that uses your smartphone's GPS (location) and clock (time) to detect where and when you are in the mobile game. It makes Pokémon creatures "appear" around you (you see them via your phone screen) so you can try to catch them.
What does it cost?
The app is free to download and play, though you can buy virtual tools with real money to help you find the Pokemon creatures via an in-app purchase.
What devices does it work on?
There are apps for iOS (Apple) and Android devices. Yo download them from the device's app store
Can I customize how I look in the game?
Yes you can change the Pokemon hunter character you play and edit the character's appearance.
Why is this game important?
It merges the real world  (via your phone's screen) with the game's virtual world, using a technology called augmented reality. It makes it seems as though the game characters are in your real everyday life. You use your phone to see them.
Is the game a privacy risk?
If you sign in with your Google account it gives the game full access to your Google account though it can't use your Google wallet or change your password… HOWEVER people got upset at this and Ninetndo has been working with Google to reset this to basic persmissions red alert – https://support.pokemongo.nianticlabs.com/hc/en-us/articles/222648408
Is Pokemon Go the transhumanist future?
In a weird way yes. Sort of. But just as the first computers in massive rooms in the 1960s and 1970s are nothing like what today's computers look like, they shows the way to a new tool that enhanced being human.
What is important about Pokemon Go is that it shows primitively how you can change the look of how you want and present to the work – you are an avatar – how you want to others and interact with machine generated intelligence that aren't there in the "real"  physical world but that change your experience of it.
1